Ask LaFontaine Family Deal Direct of Ann Arbor: "Will Leasing a Used Car Affect My Credit?"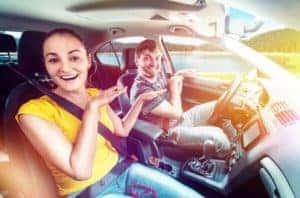 Every day, more and more of our customers are realizing the cost-savings and flexibility benefits that come with leasing a used car.
Of course, an important question must be asked: "Will leasing a used car affect my credit?" The answer is yes, and our local used car dealers explain how.
How Leasing Affects Your Credit Score
Whether you're leasing furniture from a local retailer or a used car from LaFontaine Family Deal Direct of Ann Arbor, your credit score may drop a bit in the beginning. This is simply because your new acquisition has increased the amount you owe across all your lines of credit.
Once you start making on-time payments, your credit score will increase again because you're reducing the amount you owe while simultaneously establishing a good payment history.
A car lease from our used car dealership is considered an installment loan. This type of loan is defined by a set monthly payment over a set period of time. These loans are great for building a good credit score because they positively impact your credit on a number of fronts, including your credit mix, length of credit history, and payment history.
In fact your payment history comprises the largest portion of your credit score, so as long you don't fall behind on your payments, you can expect your credit score to steadily increase.
Consider a Certified Pre-Owned Car
Another option to consider is a Certified Pre-Owned car. These vehicles have low miles, are thoroughly inspected by our service experts, and are manufacturer certified – all perks that you'll benefit from at a used car-focused dealership like ours.
Since the value of a Certified Pre-Owned (CPO) vehicle is greater than a "standard" used car, your loan amount and monthly payment will be higher. This allows you to improve your credit score even faster than with a standard used automobile.
Lease a Used Car Today
With years of finance experience and strong relationships with lenders nationwide, Family Deal Direct of Ann Arbor will create a used car financing package that meets all of your requirements. Get started by exploring our online used car inventory today, and then stop by our nearby used car showroom for a test drive.