Five Questions to Ask When Buying a Used Truck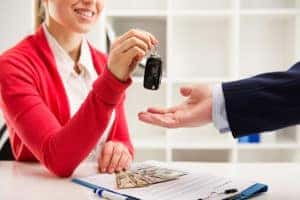 There are some jobs that only a truck can do but buying a new truck can sometimes be a complicated process. The most economical option is usually to purchase a used truck, so we're here to guide you through what to look for and ask about when shopping around.
Whether this is your first time buying pre-owned or you're a seasoned pro, these are the top questions to keep in your back pocket when making your decisions.
1. What Is the Vehicle History of This Truck?
One of the biggest hesitations for buying a used truck is not being able to know how the previous owner treated it. Luckily, many used vehicles come with vehicle history reports, like CARFAX®, that outline any repairs or incidents the truck has been in.
2. What Features Does This Truck Come With?
When getting a truck that's new to you, knowing which features matter most to you can help guide your selection process. Have an idea of what safety, tech, power features you consider essential because they can often be found in used trucks.
3. How Much Is This Truck Selling For?
It's good to get a range of prices for the used truck you're looking to purchase. Check out what the MSRP is on a new model and look at the prices for similar used versions. Getting to know these prices can help you gauge what fair price you should pay.
4. What Are My Financing Options?
You can set up payment plans, apply for loans, and qualify for leases when looking for new trucks. We make it easy for you to apply for financing before even stepping foot into our dealership so that you already have an idea of what financial incentives you qualify for. Plus, the payment calculator on our website can help you start budgeting right away!
5. Are There Any Certified Pre-Owned (CPO) Options?
CPO vehicles are as close to new as you can get without having to pay the full price. They must undergo rigorous inspections and meet factory standards. If CPO vehicles are unavailable, we also offer a range of inventory specials so that you can save on a high quality used truck that's perfect for your lifestyle.
Come into LaFontaine Family Deal Direct Ann Arbor today to view the full range of the used trucks we have to offer and ask any further questions you may have about the purchasing process. The whole staff is eager to help you!