How to Choose the Right Used Car Dealership
It's no secret there can be a stigma that goes along with shopping at a used car dealership. After all, buying a car that someone else has already owned can come with risks.
However, by choosing the right dealership, you can rest assured you are getting a quality purchase you can trust.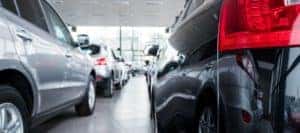 What Kind of Reputation Do They Have?
One of the first things to consider when looking for a used car dealership is their reputation. At LaFontaine Family Deal Direct Ann Arbor, our motto is, "It's not just what you get, it's how you feel!".
We pride ourselves on giving our customers a satisfactory experience every time they work with our dealership. Whether you are shopping used cars for sale, getting routine auto maintenance, or visiting with our finance department, we want every interaction you have to leave you feeling happy about your decision to shop with us.
What Type of Inventory Do They Offer?
Another important part of choosing a used car dealership is, naturally, their inventory. Do they have an extensive selection? Do they offer vehicles to match any budget? And, most importantly, do they have the vehicle you are looking for?
Our dealership has the most aggressive trade-in appraisal in the market. So, as you can imagine, we have a vast inventory that's always growing. We offer a plethora of makes, models, and prices, including vehicles priced under $10,000. Don't see your dream vehicle? With our convenient Car Finder tool, simply let us know what you're looking for and we'll find it for you!
What are the Perks of Doing Business with Them?
You also want to weigh the perks of doing business with a used car dealership to see how it shines amongst its competitors. At our dealership, we have too many added perks to even list.
Guaranteed to meet or beat competitors' new vehicle prices
Affordable finance options for every credit score
Complimentary multi-point inspections for added peace of mind
Competitive service pricing and we honor our competitors' coupons
Buying a used vehicle doesn't have to be a risk when you shop with the right dealership. Our used car dealership is dedicated to delivering exceptional customer service and quality cars, every single time. Visit us today to find the perfect new-to-you vehicle for you!